Zambezi River Basin Tourism and Wildlife Conservation Assessment
As part of a Multi-Sector Investment Opportunity Analysis for the World Bank, Willie Boonzaaier from Contour Project Managers was appointed as Tourism and Wildlife Conservation Expert by BRL Ingénierie.  The project was funded by the Sweden government.  The assignment was; to prepare a summary description and carry out a rapid SWOT analysis on the tourism and wildlife conservation beneficial uses in the Zambezi river basin; to advise the Economist and Team leader on the elaboration of development scenarios; to provide the Economist with all needed data, including economic aspects, concerning tourism and wildlife conservation; to contribute to the analysis of the scenarios with the use of indicators concerning tourisms and wildlife conservation; and to assist the team in analysing the existence and opportunities of Public Private Partnerships (PPP) in the tourism sector and in all the project sectors.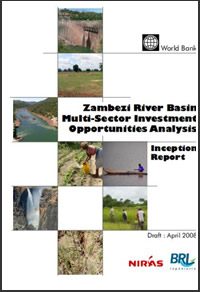 ---
Royal Bafokeng Tourism Route and Anchor Projects – tourism opportunity analysis and Tourism Route Business Plan.  Participated in a team of specialists as the spatial tourism specialists, in identifying key tourism opportunities, developing concepts and business plans for anchor projects and developing a spatial tourism plan with tourism routes.
---
Praia da Rocha Tourism Development Plan at Inhambane, as a Priority Coastal Development Zone in Mozambique.  Contour was part of a team that assisted the Client in the areas of formulation of a tourism development plan for Praia da Rocha that maximises the economic potential of the area and can be used as a demonstration of sustainable coastal to
urism in the Province of Inhambane.